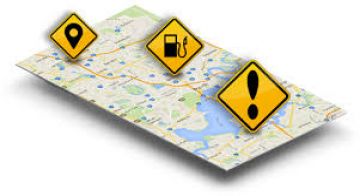 Journey Management
All journeys need to be planned, but certain types of journey must be managed using the procedure in the Operating Standard. This is because accidents have happened when journeys have not been properl...

The Journey Plan will provide accurate and up-to-date timetable information of Alex Trans transport fleet to get the drivers to their destinations in customer locations with the fastest & safeties modes. The estimated time required to deliver the cargo from an origin to a destination will be displayed to the journey plan. Possible routes to a desired destination will be introduced and visualized to driver through Journey Management.
Journey plan:
Alex Trans' Journey Management team prepares a road assessment for all Egyptian roads, which includes information about the road's appropriate rest points, on the road hospitals, black spots and so on. Then update this assessment periodically, to constantly keep our eyes on the road, its changes.

Journey plane input & Outcome
Our Journey team contacts our customer to collect the data regarding the loading and unloading areas, and then use an effective and trusted information system to promote the best routs and roads to deliver the shipment safely and in time. Our reliable system provides our customers with all the information relevant to the trip, and finds the best delivery options suited to our customer's particular needs and circumstances; the following information shall be included:
Fleet number & code of the vehicle
Name & code of the driver
Name of driver assistant
Departure point
Actual departure date and time
Route with name or time of each rest (This shall include the name of the area where the driver allowed to stayed)
Exact arrival point
Journey Management Point at the destination
Estimated arrival date and time
Name of Journey Manager and contact number
The time at which the Journey Manager intends to contact the customer if the driver has not reported back.
If part of the journey is done at night, (and if on graded roads, reference to the permission given according to PDO procedures)
A tick-box if Hazardous Materials are carried, to show that a TREM Card has been given to the driver & all road permission required to deliver that material
Driver must follow speed limits
Never drive longer than 10 hrs on 12 hrs shift
Break every 2 hrs for 15 min or 30 min / 4 hrs
Stop on approved rest points

Journey plan communication:

The driver will receive completed JP & take copy with him to fill it during his journey
Upon completing will fax it or send it to dispatcher

Journey Management record
The JM shall collect records of all managed journeys, using the statistics provided by dispatcher. The JM also keep a record of the number of non-compliances found when authorizing specific journeys. A simple monthly report shall be made showing:
Total number of journeys managed
Number of 'overdue' checks made
(Both of the above are collected from the Journey Managers)
The number of Journey Plan non-compliances
This report provides a very basic road transport performance indicator. More detailed records can be kept, depending upon the ease of collection, and relevant management information produced. This will further help to reduce transport costs if reviewed regularly.
Area of Customer's Operation
| Port | | Factory |
| --- | --- | --- |
| Port | | Port |
| Factory | | Factory |
| Factory | | Warehouse |
| Warehouse | | Distributors |
| Factory | | Distributors |
| Rig | | Rig |
Egyptian Roads and Routes
Even in countries with high standards of road design and in-built road safety features, the risks associated with driving remain high. Therefore, it is essential that local hazards and risks are identified and appropriate risk reduction measures taken. To this end, managers and supervisors responsible for Road Transport must have a good knowledge of the geography of and road conditions in their operational areas.
Familiar Egyptian Roads
The most frequently used roads for transportation are:
Cairo-Alexandria desert road
Cairo-Alexandria agriculture road
Upper Egypt Western road
Upper Egypt Eastern road
Upper Egypt agriculture road
Suez road
Ain Sokhna road
Hurgada road
In case of trucking through any of abroad routes, there should be a special operational PD for those destinations (Abroad routes ex Libya, Sudan, Algeria,…)